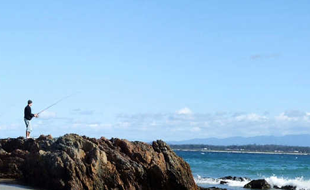 The village of Mogo is a popular shopping destination with a wide array of artisans, unique stores and place to eat. Other attractions include the Mogo Zoo, and The Original Gold Rush Colony.
Click here to find out more about Mogo Village
Batemans Bay is a popular holiday destination on the South Coast of NSW. It offers many beaches suitable for different activities, a great range of fishing spots and all water sports are catered for. If the beach isn't your thing, the Bay is surrounded by National Parks and State Forests offering bushwalks and hikes for various abilities.
A range of restaurants offering a variety of cuisine are available, as well as a number of fresh seafood vendors who sell straight from the boat or oyster farm to the public. As a regional centre it also has a variety of fashion boutiques and major retailers available.